Instructor Development Program
Designed to increase the efficiency and effectiveness of talent development. It is also essential to facilitate a company to have an effective Emergency Response Team.
Learn the theory, concept and the process of the first aid. 
Apply concepts learned in a theory session to a practical situation.
Conduct a high-quality, interactive and engaging training.
Monitor the learning outcome of the training for every participant.
Online Learning (12 Weeks)
Flexible learning phase with access to our innovative learning platform. Learn at your own pace.
Nov 09, 2017
Hands-On & Practical Session (3 Days)
First-hand practical learning to implement their basic knowledge to practice from our qualified trainers.
Nov 09, 2017
Learn How to Conduct Effective Training (3 Days)
Get in-depth practical via face to face sessions to develop important soft-skills as instructor and get evaluated by our professionals.
Nov 09, 2017
Onboarding
Get certified from this program and embark on life-saving journey practices and educate more people in the company.
Nov 09, 2017
Discover ASEC Learning Portal
An innovative platform used to spread the knowledge on providing First Aid Training aiming to save a life.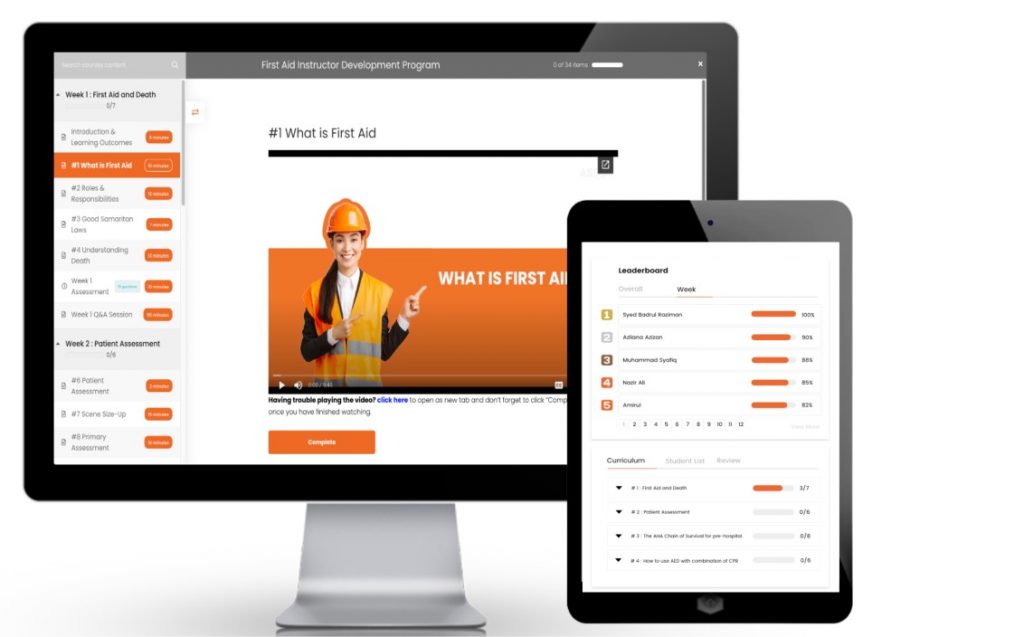 What benefit to the company?
Conducting multiple internal training without paying extra training fees to the training provider.
Arranging training sessions based on the company's preferred time to increase productivity and efficiency.
Providing growth opportunities for the employees.  It also helps to reduce the turnover rate.
Increasing the company image, and the organisation will gain trust and respect for its reliable and strong OSH standards.
The companies that join Instructor Development Program